President's Message
Save the Date: Summer Workshop
Networking across New England
Call for Nominations
New England at AACRAO
Join a Committee
AACRAO Advocacy
President's Message
Tara Walor, President
Dear Colleagues –
Spring has FINALLY sprung here in New England! As I sit in my office and look out over the budding trees and Charles River, I am reminded of the energy and excitement that this time of year brings. Many of you are preparing to say farewell to a class of students – with endless celebrations, awards, and graduation ceremonies.  I wish you all the best in the days to come – including weather that cooperates.  You're on the home stretch!  Others of you are wrapping up a long admissions season and are also looking forward to potentially quieter days ahead – and not being on the road so much!  Take pride in the fact that you've admitted what will no doubt be an amazing class of students who are beyond excited to join your community in the coming months!
In March, I had the pleasure of joining several of our fellow NEACRAOans in Orlando at AACRAO.  It was a great conference and 
GDPR – the EU's General Data Protection Regulation
 was by far the hot topic!  On Tuesday evening of the conference, NEACRAO hosted a reception for all AACRAO attendees from New England.  I was very happy to see over 60 of our colleagues in attendance, and engaged in fun, lively conversation with one another.  If you don't already follow us on social media, please find us on Facebook at 
"New England Association of Collegiate Registrars & Admission Officers."
 It's a great way to keep up with what's happening and see fun photos from our events!
Speaking of events, I hope you'll find time to join us at our upcoming events.  NEACRAO Networking, a new initiative to gather members for informal conversation and good cheer will debut at the end of this month.  This is a great opportunity to meet up with colleagues in your state to catch up on what's happening at their school.  In addition, the Summer Professional Development Workshop is scheduled for August 2 at Central Connecticut State University.  This workshop is a great opportunity to send staff who don't normally get to attend conferences due to various constraints or policies.  It's a day long 'drive in' conference that is sure to be of value for you and your staff.  I look forward to seeing many of you there!
Be on the lookout later this summer for the registration site to open for the 
2018 Annual Conference on November 7-9
.  We will be back in Newport, RI and the program is sure to please.  In the meantime, have wonderful summer!  I hope you take some well-deserved time to relax and refresh.
Summer Professional Development Workshop: Save the Date!
Make sure you mark your calendar for this year's 
Summer Professional Development Workshop
, presented by 
Inspire Leadership
. On 
August 2nd
, we'll gather at 
Central Connecticut State University
 for a day of professional development intended for all higher education professionals, not just members. Bring your colleagues!
Interaction Communication Styles: Enabling High-Performing Teams and Relationships
The most successful teams consist of people with diverse skills, who trust one another and work well together. Interaction Styles is a powerful, behavioral lens to quickly and effectively improve communication skills. In this popular, energizing and insightful workshop, you will understand the 4 different communication styles and value the multiple perspectives. You will learn how to interact effectively with others, manage conflict when it occurs and flex your communication style to be better heard and understood.
Course Outcomes:
1) Immediately improve your communication skills
2) Understand the drive, beliefs, talents and appearances of each style
3) Identify blind spots and limiting behaviors for you and your team
4) Increase collaboration and knowledge sharing
5) Improve decision making by embracing a diversity of perspectives
6) Gain a readily assessable shared language to use and apply at every level in your organization
Hours: 9 a.m.-4 p.m.
Registration opens June 6, 2018.
Networking Across New England
Join us on 
May 31st
 for one our new initiatives, a chance to connect with colleagues from across the region outside of our Workshop and Conference events. Stop by 
The Kinsale
 in Boston, MA 5 p.m. to 7 p.m. for conversation, fellowship, and another academic year's work accomplished. All are welcome, R.s.v.p. requested.
Invitation to follow.
Call for Nominations
Nominate your colleagues (or yourself) to serve NEACRAO! NEACRAO welcomes nominations for the following positions:
President-Elect

 (must have served on the Executive Council within the last three years.)

Treasurer-Elect

Archivist/Parliamentarian

Nominating Committee

  – 2 members needed for the committee (1 from Admissions/Enrollment Mgmt and 1 from Registrar)
Nominations for these positions will be voted on by membership at this year's conference in November! Nominations are due to Bryan Boppert, Past-President, by June 30, 2018.
New England at AACRAO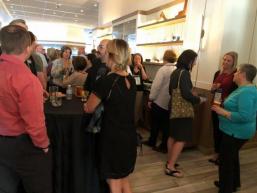 New England at AACRAO
Thank you to everyone who joined us at our event in Orlando at AACRAO's national conference. It was great to welcome so many New Englanders to a chance for local connection at the conference.
Join a Committee
You don't have to devote your life to NEACRAO to get involved. We have folks drop in for limited input related to session offerings, or help in other small ways. Commitment can be small, but payoffs for growing your network and fostering your own growth are huge. Interested? Complete a committee interest form and we'll reach out to you!
Advocacy via AACRAO
AACRAO has begun an 
Advocacy Center
 that takes positions on pending legislation and provides tools for its members to contact their lawmakers. The NEACRAO Board has decided it will not support any specific legislation at this time, but encourages members to continue to be civically active in their own communities as their consciences dictate.