In this Edition
President's Message
Call for Nominations
Annual Conference Schedule/Sessions Update
Summer Workshop Debrief
Scholarships Make a Difference
Welcoming New Members
---
President's Message
Dear Colleagues,
Ari Kaufman
NEACRAO has been hard at work this summer in many areas! We recently had a terrific summer workshop at Fitchburg State University. Bonnie Joy Dewkett, "the Joyful Organizer" led this workshop which focused on her innovative ideas for time management and workspace organization. Two of the many tangible ideas she imparted on us was to purchase a "Time Timer", a portable clock that shows vividly in color how much time had elapsed in a meeting. She also suggested that the "out of office" email messages we use for time off can also be used to communicate that one is unavailable for just a portion of a day when one if busy with a project or meeting. If you were not able to make it to the workshop, there will be a session devoted to these and other ideas at the Summer Workshop in Review session at our Annual Conference in November.
Speaking of the Annual Conference, we are now less than two months away from what promises to be a highly substantive and enjoyable conference at the Radisson Downtown in Manchester, NH. I encourage you to register today if you have not already. We have put together an outstanding program for the conference which will take place from November 2 – November 4. Be sure to come in time for the NEACRAO welcome reception at 4PM on Wednesday, November 2nd. I look forward to welcoming you all and meeting many of you for the first time!
We recently completed an ambitious membership drive this summer to re-engage with member schools that had knowingly or unknowingly fallen out of current membership status as well as some schools that had never been members of NEACRAO. We (re)introduced ourselves to these schools are very pleased to report that this drive was successful in bringing several new and returning members! As of this writing we have added 8 of these institutions to our membership from this drive.
At this year's conference, you will see an increased visibility for our exhibitors. As a group, they perform a wide array of services for higher education. You will hopefully come away impressed and with some good contacts that may help you improve some of the processes at your schools. There will also be some very appealing raffled items at the end of the conference.
If you are in the Admissions or Enrollment Management areas, please encourage your Admissions staff to attend our Reverse College Day immediately preceding the conference. In 2008, Reverse College Day won AACRAO's Ockerman Award which recognizes outstanding professional activities of the state/regional associations. RCD is a unique opportunity for you to engage with counselors from secondary schools all across New England. In addition to the meet/greet in the morning, four sessions will be offered in the afternoon to maximize the experience.
I would like to extend a huge thank you to all the volunteers that make NEACRAO the successful organization it is today! We have had several new folks volunteer this year as well. I look forward to seeing you in November!
Best regards,
Ari Kaufman
President
---
Call for Nominations!
NEACRAO is seeking new members for our Executive Board for the following positions as well as members for a new Nominating Committee:
President-Elect
Vice President for Admissions/Enrollment Management
Vice President for College Admissions & High School Relations
Secretary
Nominating Committee – 2 members needed for the committee (1 from Admissions/Enrollment Mgmt and 1 from Registrar)
Considerations for nominating officers (see position descriptions on our Nominations site):
Involvement in NEACRAO and AACRAO
Interest in serving and availability
Leadership qualities
Institutional approval and support
President-elect must have served on the Executive Council during the current or previous year
Remember:
Candidate's approval should be obtained prior to nomination
Nominee MUST be a member of NEACRAO
Only one nominee per form
For more information, visit our Nominations site.
---
2016 Annual Conference Update
This year's conference is November 2-4 in Manchester, NH. We have lots of exciting plans for this year and hope you will be able to join. For more information on the schedule and topics and our keynote speaker, visit our website!
---
Getting Ourselves Organized: A Summer Workshop Success!

On August 3, forty-five New England professionals met to get organized! Special thanks go to our stellar presenter, Bonnie Dewkett and our event organizer, Bryn Nowell.
For those of you who missed it, Bryn will be leading a presentation at this year's Annual Conference in Manchester.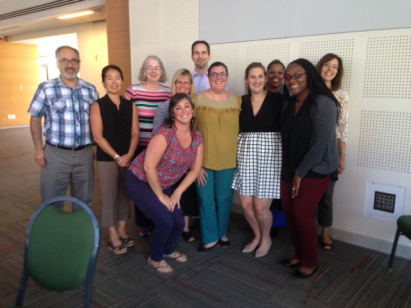 ---
George Coleman Scholarships
Karen H. Schedin-Scola, NEACRAO Past-President 2015